Where to get free photos for websites and emails
So you have designed your website and now you need engaging content, and photos that will jump out and grab your audience. It can be incredibly difficult to find stock images that aren't either expensive, boring, or watermarked.
Thankfully, there's been somewhat of a revolution in the free photography world. A growing number of websites offer beautiful stock photography for free.
Here are some of the best sites that offer photos available for commercial use—absolutely free!
Pixabay offers a searchable collection of free high-quality photographs. All of the images on this site are distributed under a CC0 Creative Commons license, which means you are free to download, modify and distribute all of the photos for any use. You don't even need to give credit. To download the original size (large) photographs, you'll need to create a free account—it only takes a minute to sign up.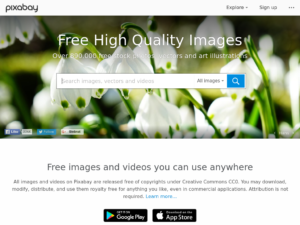 Pexels is another amazing service that provides free images under a CC0 license. You are free to edit, share and use all photos for personal and commercial projects. Additionally, Pexels offers a free video library with stock footage suitable for videos.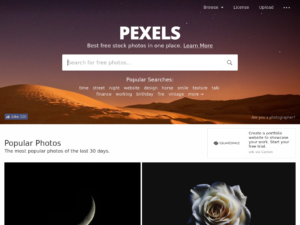 Unsplash offers free (CC0, like the other sites) high-resolution photographs, grouped into convenient collections. Look for photos that feature lots of blurring: these are great if you want to superimpose text on top of the images. Text on top of a blurred background is easier to read than text on a sharper, more busy background. The service features ten new photos every ten days. You can even sign up to their mailing list and receive the newly featured photos in your inbox.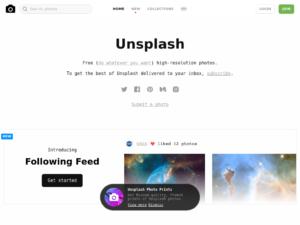 For such a popular site, Flickr is often overlooked as a source for great, free website images. You can search for images with no known copyright restrictions. Flickr also allows you to filter for photos with a shallow depth of field (for blurring), minimalist photos, photos with patterns and you can also find photos of a certain color. Unlike the other sites featured here, Flickr's library is mixed in terms of copyright, so you'll need to respect and check the copyright for each image you want to use.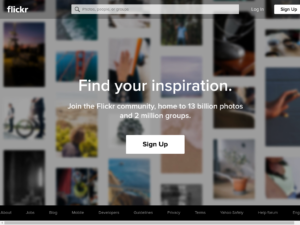 Wikimedia Commons, as part of the Wikimedia Foundation (creators of Wikipedia), provides a library of over 35 million media files including photos, illustrations, sounds and videos. All files on Wikimedia commons in the public domain, meaning you can use them however you want—commercial and noncommercial alike.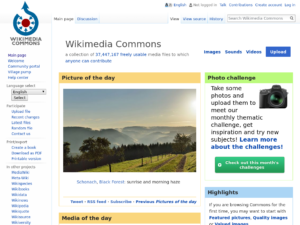 SnappyGoat provides a search index of well over 12 million images around all topics. The photos aren't as nice as some of the other libraries. However, there are so many images that you can guarantee you'll find something relevant to your website's topic. The images are presented much like Google Images and allows you to download any full-size image without logging into any accounts.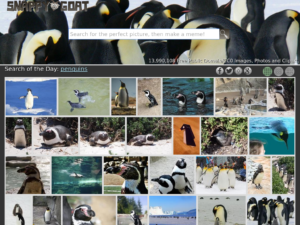 Avopix is another great resource for free large stock photos, with new photos added every day. No login is required to download photos. The site also features a large gallery of premium videos.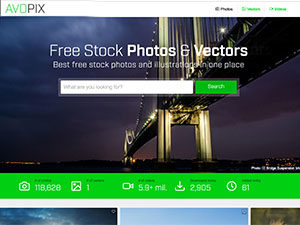 Free Public Domain Image Websites
Here's a list of the most popular and extensive public domain image libraries:
| | | | | |
| --- | --- | --- | --- | --- |
| Website | Number of Images | Content | License | Free Account Required? |
| Flickr | 13 billion+ | Photos | Mixed License (some CC0) | No |
| Wikimedia Commons | 25 million+ | Photos, Illustrations, Sounds, Videos | CC0 Public Domain | No |
| SnappyGoat | 12 million+ | Photos and Illustrations | CC0 Public Domain | No |
| FreeQration | 2 million+ | Photos and Illustrations | Mixed License (some CC0) | No |
| Pixabay | 680,000+ | Photos | CC0 Public Domain | Required for largest images |
| Avopix | 110,000+ photos, premium videos | Photos and Videos | CC0 Public Domain | No |
| Pexels | 25,000+ photos, 3,000+ videos | Photos and Videos | CC0 Public Domain | No |
| Unsplash | Unknown | Photos | CC0 Public Domain | No |
| Negative Space | Unknown | Photos | CC0 Public Domain | No |
| picjumbo | Unknown | Photos | CC0 Public Domain | No |
| Gratisography | Unknown | Photos | CC0 Public Domain | No |
| FreeImages.com | 389,000+ | Photos | CC0 Public Domain | Yes |